Who will be the 5 winners of our Bubble giveaway?
530

Views
Posted on:
19/09/2020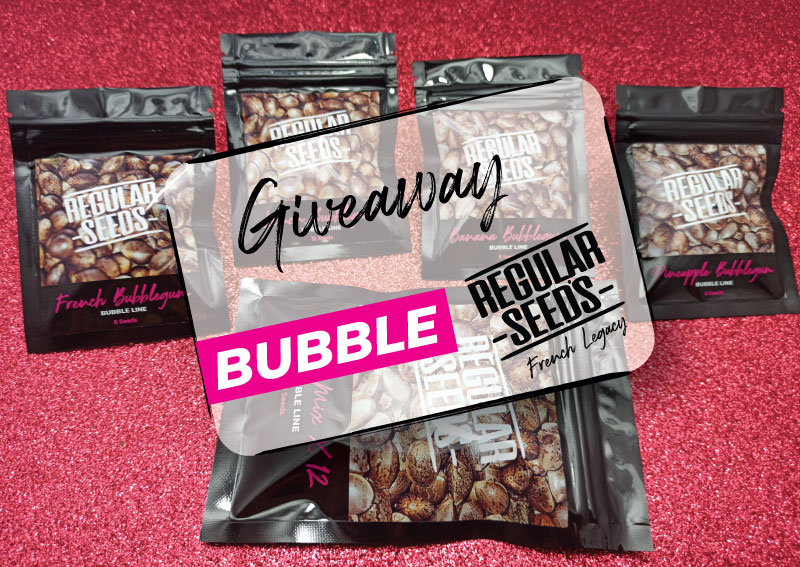 We will draw lots for the 5 lucky winners of several pouches from the bubbleline series.
For that, we have prepared a small infallible mathematical tool for you to draw a number among the 29 registered players.
You can test the reliability of this algorithm for yourself afterwards. The draw will take place the 19th of September at 10 p.m. and will be filmed and live on Instagram.
We will offer 5 products to the 5 people drawn :
---
1- Who will win the Pineapple Bubblegum pack of 12 seeds ?
Pineapple Bubblegum Draw :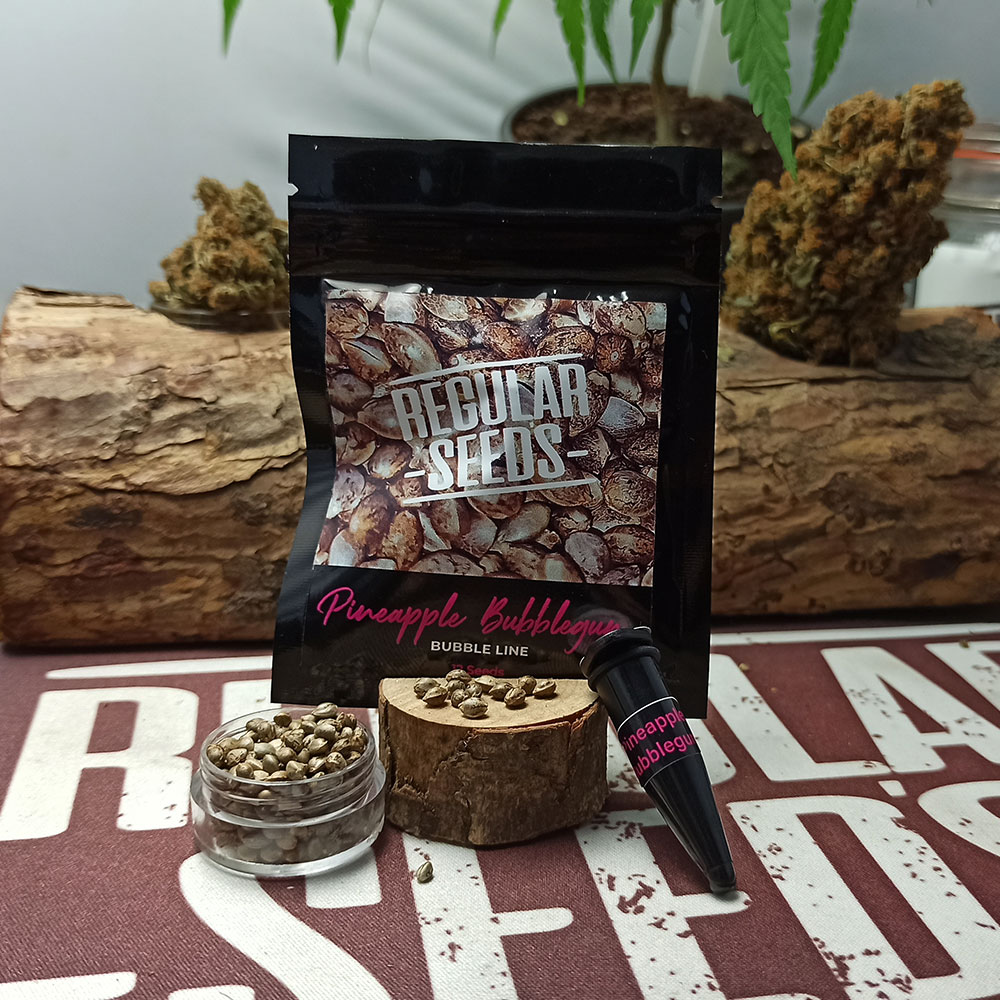 New sensations for BubbleGum' aficionados. Simply delicious ,our Pineapple Kush elite clone carries here all necessary freshness to create an hybrid whom only objective is TASTE. Pineapple flavor is dominant, and association with BubbleGum delivers to lucky guys who grow it a pure candy! This genetic also surprised us with its therapeutic properties, ideal to fight against anxiety and stress. Effects are sweet and progressive, pot is ideal to share in society, you can only expect good time and happy mood.
---
2- Who will win the Banana Bubblegum pack of 12 seeds ?
Banana Bubblegum Draw :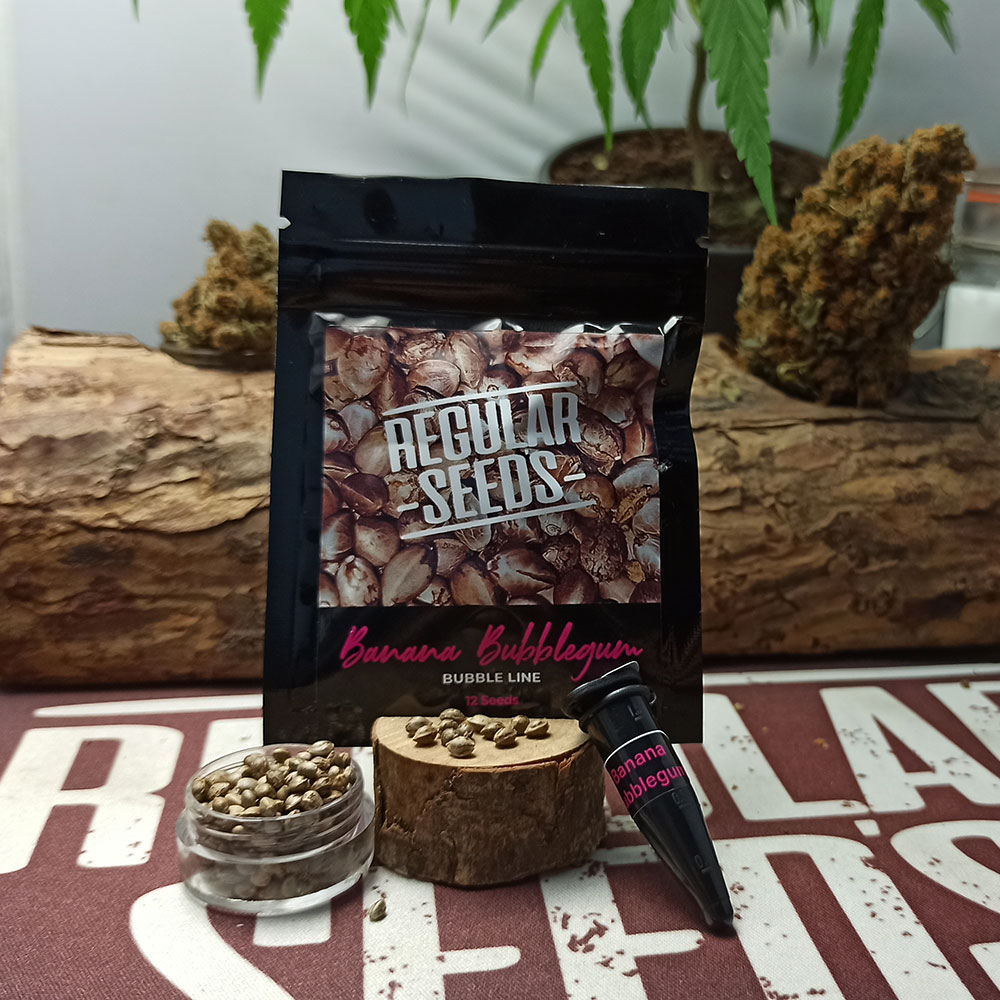 Another gift for Bubble'Community.
Our Banana pheno is impressionant, you seem to be in a ripe bananas plantation when smelling a dry bud! Kush influence was too much dominant with this clone, to can be appreciated all day long without being a zombie, so we naturally included it into the BubbleGum project. As Banana already had bubble origin in its genetic patrimony, issue of this F1 cross made no doubt for us: a very uniform variety, robust, kushy just enough, and producing big white buds of what a Banana bubblegum could be as weed form. Smoke is thick, effect is particulary Indica and ideal to finish a workday quietly, few Sativa mental properties are relaxating too.
---
3- Who will win the French Bubblegum pack of 12 seeds ?
French Bubblegum Draw :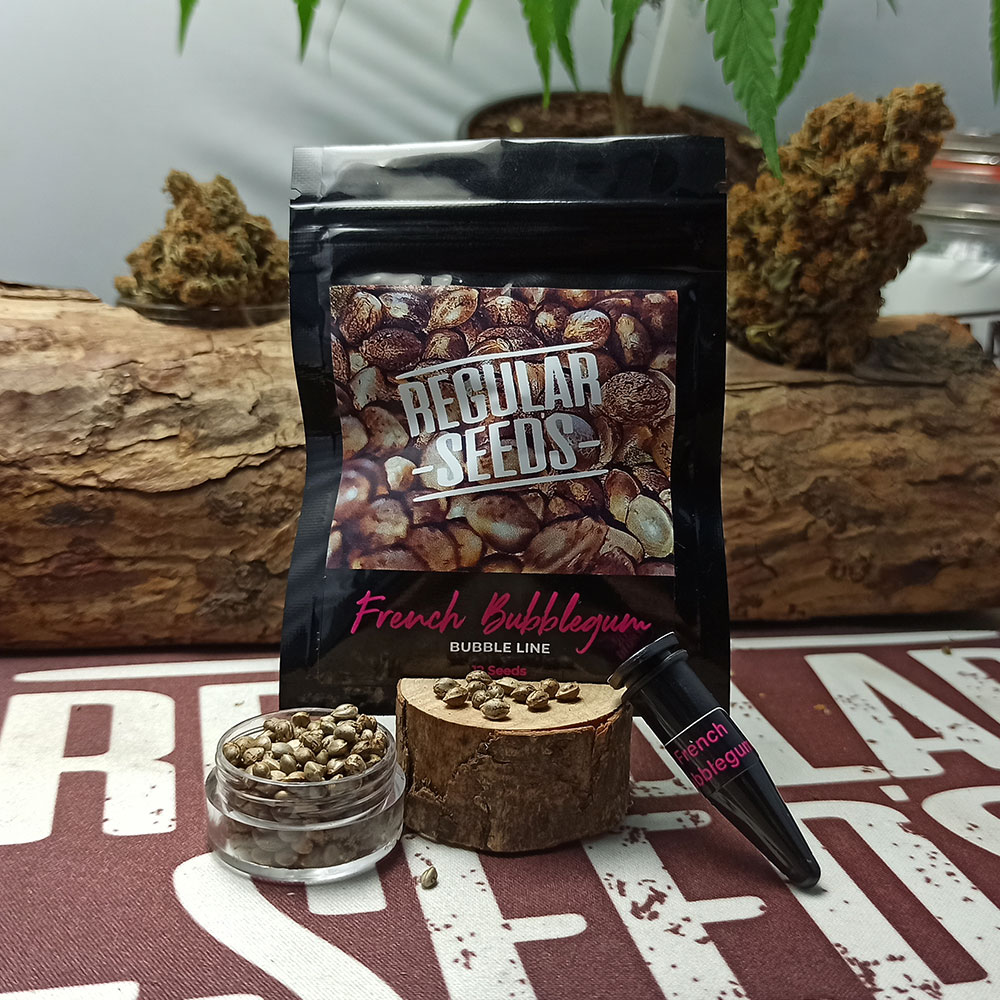 Our BC Grapefruit pheno brings subtil fresh tones to the BubbleGum project. Sometimes grape, others grapefruit or grenadine, you can also find tipically wine pheno...there's really something french, with her!
One more time, expect a hard yield from this one. SCROG is perfect to increase yield, and she's one of the easiest plants to grow. Buds are very dense on a little christmas tree, even beginners can reach a high harvest in 7/8 weeks. She doesn't need long growing time, due to her rooting ability from a short indica heritage. Fastest genos are ready in only 45 days, this is a strain you'll prefer cut early, keeping this fresh smell of summer in your weed.
---
4- Who will win the Lemon Bubblegum pack of 12 seeds ?
Lemon Bubblegum Draw :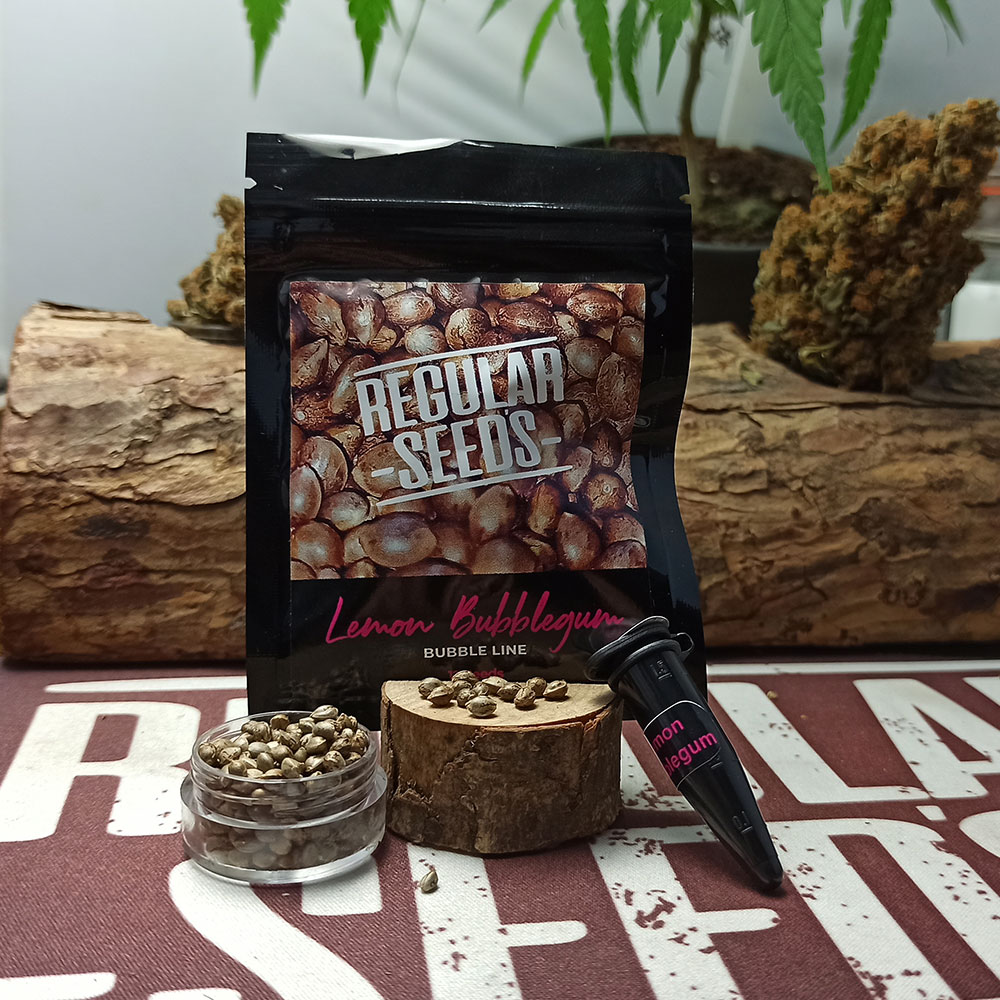 I have to confess that only reason which motivated me for this project was...my own pleasure. Create a true candy from Agent Lemon was just possible with Bubblegum union. Our proven male brought Lemon female the exact dose for becoming.
Really a perfect mix of aromas, like an acidulous candy. A little couchlock follows an euphoric excitatation, as a fresh hash taste stands in your mouth, prepare to rediscover Bubblegum.
---
5- Who will win the Bubble Mix pack of 12 seeds ?
Bubble Mix x12 Draw :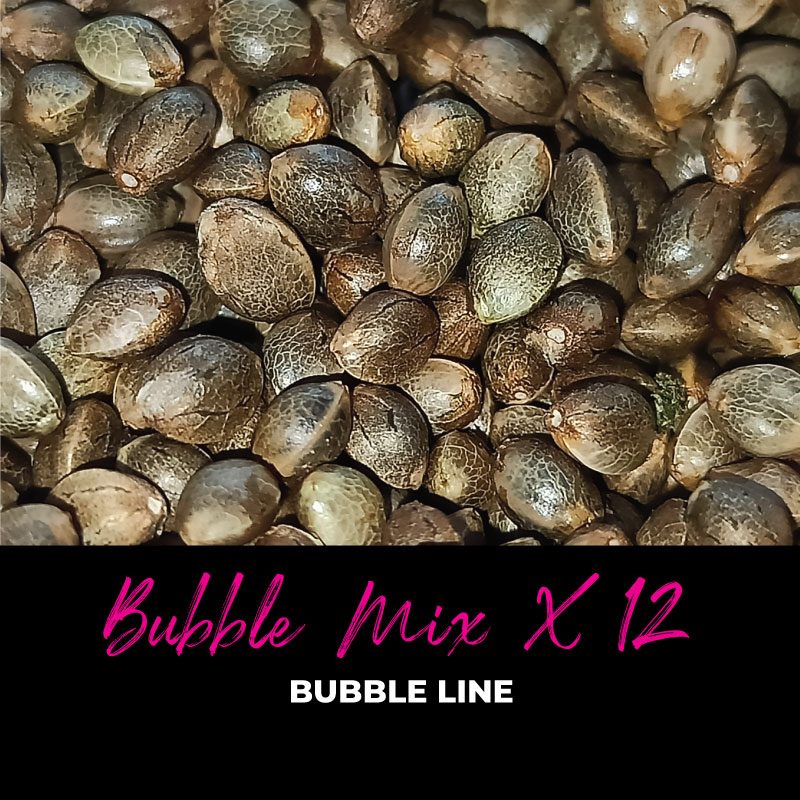 The BubbleGum project in integral version. Especially released for this old legend's fanatics.Declinated with our most fruity females collection ,everyone can find HIS BubbleGum.
Sour, sweet, sugared...or subtile as French and Banana phenos can be, nostalgics from 90's will find a new genese to this so famous strain as new generation can nowadays discover the total BubbleGum experience.
The French know how by REGULAR SEED'S.
---
For those who will not be drawn, we have planned a little consolation surprise for you.
See you soon, friends.
Comments
Bubble Giveaway Winning Results :

By: REGULAR SEED'S - French Legacy

On

19/09/2020

Pineapple Bubblegum : Pack of 12 seeds -> Winner : 20
Banana Bubblegum : Pack of 12 seeds -> Winner : 29
French Bubblegum : Pack of 12 seeds -> Winner : 10
Lemon Bubblegum : Pack of 12 seeds -> Winner : 12
Bubble Mix x 12 : Pack of 12 seeds -> Winner : 25