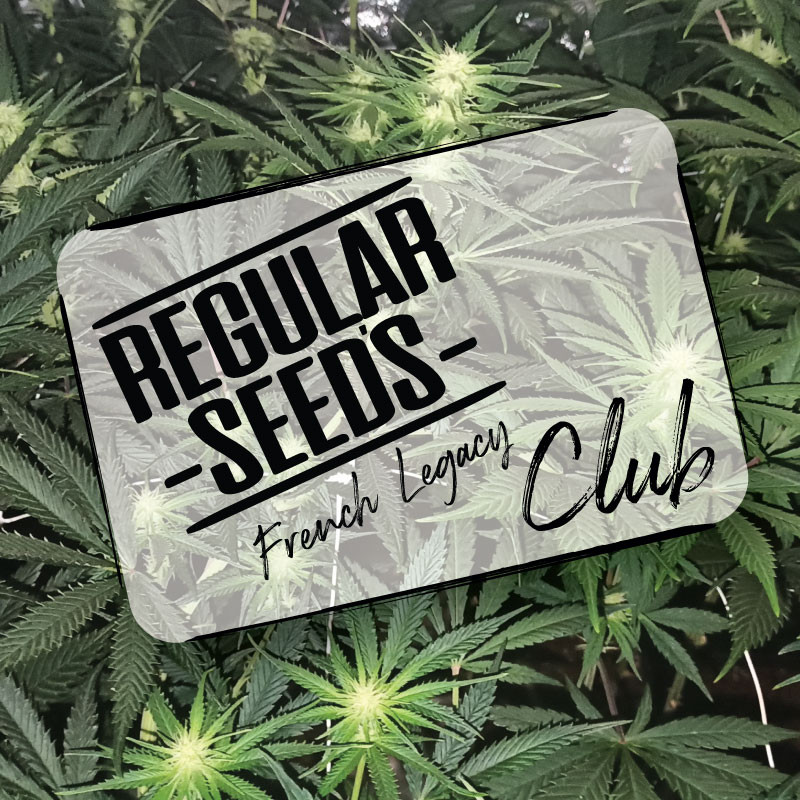  
Join the club
- 3 free seeds from random mix at the subscription
- 3 free seeds from limited edition every 3 months
- 3 free seeds from random mix every 3 months
- access to all our events
- 25% discount and gifts on each orders
Secure payment by credit card

Free worldwide delivery

100% germination guarantee
REGULAR SEED'S French Legacy
The CLUB Every grower, every cannabis lover can become a member of our community and enjoy REGULAR SEED'S universe through permanent reductions on all our catalog, but also with privilegied access to LIMITED EDITIONS and new crossing projects.
Members receive 6 seeds every trimester and can grow all year long with fresh and pertinent new genetics for little price, without passing order or spending white nights to find THE next ladies. LIMITED EDITION seeds are a preview of tomorrow champions and particular projects we diligently exegese on our Blog, while the RANDOM MIX offers a panel of our references. We are aware of how lucky we're to exercise the Breeders' profession, and create this Club is the logical outcome for us in our sharing philosofy; growing and crossing Cannabis all those years got us so many thrills, that knowing we can offer this emotional favour to all our members and broz is for us a priceless revival.
We're evenly proud to can share with persons who trust in us a 20 years experience in Cannabis labour, the nature marvels we preciously selectionated and meticulously kept with the time, rich crosses we passionately developed and above all everything Marijuana had learn to us. Now honored to learn from you.
Data sheet
-25% discount and gifts on each orders

for the duration of your subscription

3 free seeds from random mix

at the subscription
every 3 months

3 free seeds from limited edition

every 3 months

Access to all our events

for the duration of your subscription