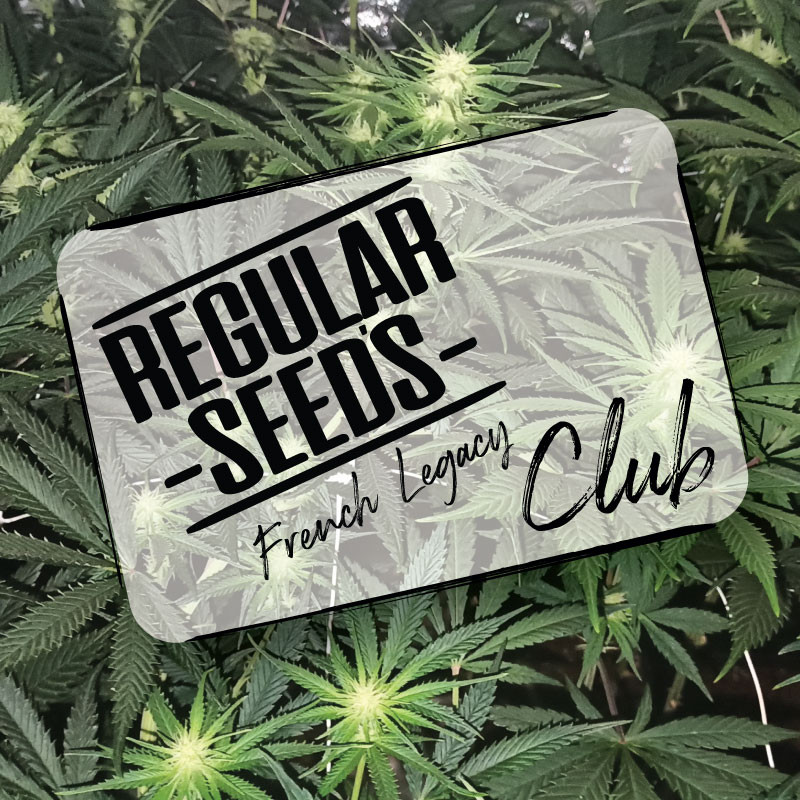  
Join the club
- 3 free seeds from random mix at the subscription
- 3 free seeds from limited edition every 3 months
- 3 free seeds from random mix every 3 months
- access to all our events
- 25% discount and gifts on each orders
Secure payment by credit card

Free worldwide delivery

Sold strictly as souvenirs or collectible
REGULAR SEED'S French Legacy began its journey twenty years ago amongst a small community of dedicated, passionate growers. In that time we have gained an extraordinary amount of experience, talent, skill and knowledge of caring for this incredible plant. All of that passion, love, dedication and experience is packed into each strain we produce, and we are extremely proud of every single seed.
REGULAR SEED'S French Legacy is proud to invite you to become an active part of that same community, share the same passions, and engage with everything we do here to improve the quality of Cannabis genetics.
Membership costs €9.90 month, which is only 33 cents a day, and brings a range of exclusive benefits, let me explain.
Firstly, for that small fee, you will have privileged access to our low number Limited Edition strains that will deliver to you incredible phenotypes, one of which may even become our next Champion strain, but yes, you'll have it first!!
Secondly, you will enjoy permanent discounts across our WHOLE catalogue, including early access to the numerous crossing projects we always have in development.
The best is yet to come!
In return for that small monthly payment, you will receive 6 seeds from our exclusive high quality range of strains every 3 months. Delivering hassle free growing through your letter box without lifting a finger.
That means you can germinate your first 6 seeds, grow them out, and by the time they've finished 12 weeks later, your next batch of 6 incredible seeds lands on your doormat ready for action! Fresh genetics every grow.
Superior authentic genetics, delivered to you fresh every single grow and for only €9.90 a month. Alongside the other benefits, we believe it's the best value scheme of its type and we would love to have you grow along with us.
We look forward to welcoming you as an important part of our amazing community and to sharing our grow journey together.
Data sheet
-25% discount and gifts on each orders

for the duration of your subscription

3 free seeds from random mix

at the subscription
every 3 months

3 free seeds from limited edition

every 3 months

Access to all our events

for the duration of your subscription